Doctor Biography
Dr. Jennifer Lockwood is a South Georgia native. She attended Georgia Southern University for her undergraduate degree and the University of Georgia for both her Master's and Veterinary degrees. She worked at a mixed animal practice in Florida after school and is the owner and founder of Crosswinds Veterinary Hospital. Her special interests include preventive medicine, endocrinology, and surgery.
She currently lives in St. Augustine with her husband and 2 dogs - a Great Dane named Mabel and a lab named Maggie. Her hobbies include ATV riding and spending time on the water.
A Little More About Myself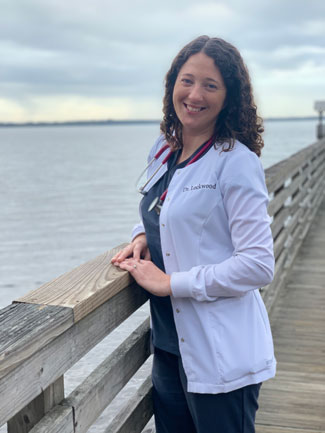 Hi, I'm Dr. Lockwood and I cannot wait to meet you! I love being a veterinarian and feel lucky to be able to share my passion every day with both animals and people. I knew I wanted to be a veterinarian at a young age, and still remember the stick-figure drawing I made of a veterinarian when asked in kindergarten what I wanted to be when I grew up.
It wasn't until veterinary school that I realized I wanted to own my own veterinary hospital, and that dream only blossomed as I emerged into the veterinarian I wanted to be. I enjoy leading people, creating a team that works to provide better medicine, and achieving daily goals that improve the quality of life for both pets and their owners.
I've always been very compassionate for both animals and people and demonstrate this in the way that I practice veterinary medicine. I believe strongly in the human-animal bond and appreciate the impact pets can have on their owners, their family. I strongly value client communication and believe in taking the time to educate owners on medical processes and the reasoning behind our decisions for your pets.
I also believe that continuing education for the staff is an invaluable tool that will only contribute to better communication and care for your pets. In the more recent corporate world of veterinary medicine, I feel the trend has deviated from these values. I want to create a clinic in while each pet has a personalized health care plan and that my staff and I can work together with you to help educate and involve you in your pet's health and well-being. I believe in creating long- lasting relationships in which we both carry a respectful level of trust for each other and in which we can both work to provide the best life for your pet.
I look forward to meeting you all and cannot wait for you and your pets to join our team! Fair warning - I have been known to give pets hugs in the exam room and often sing to pets in the hospital.
"Our Doctor is Fear Free Certified"